Zhuhai(Chinese:珠海;pinyin:zhuhai), an important city in the southern tip of the Pearl River Delta, located in the Guangdong Province, is one of China's Five Special Economic Zones. With a population of 1,582,600 and an area of 1701 square kilometers, Zhuhai is linked to Macau by highways and to Hong Kong by water which means you can go to Macau by car and to Hong Kong on a ship. Because of Zhuhai's location and a comprehensive traffic network, you can also get access to Shenzhen and Guangzhou in 90 minutes.
      Location of Zhuhai
Zhuhai is in a tropical-marine climate area with an average temperature of 15.4 degrees Celsius from December to the next year February and an annual average rainfall of 1770mm. With a coastline of 604 kilometers and 146 large and small islands, Zhuhai is known as "City of Hundred Islands".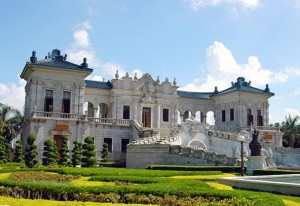 Zhuhai
In 1999, the city of Zhuhai was awarded as the "International Award for Best Practices in Improving the Living Environment" by the United Nations Center for Human Settlements and praised as one of the Top 10 Best Cities to visit in China by the Western media.
Zhuhai
Local Time:
GMT/UTC + 08:00 hour
Currency
Renminbi(CNY)
Electricity
The electric system is 220 Volt AX(50 HZ). There are many plugs and sockets available for use in the hotel. Travelers with shavers, computers, and other personal electronics should carry a plug-adapter kit.
Emergency Help in Zhuhai
For emergencies dial: (Chinese-speaking)
120 for an ambulance                 119 for fire rescue                       110 for the police