Results of Best Conference Paper Competition 
New Best Paper Award Finalists
The Finalists and winners of the awards of ROBIO2015 has been announced at the award banquet. The list of the winners is as follows: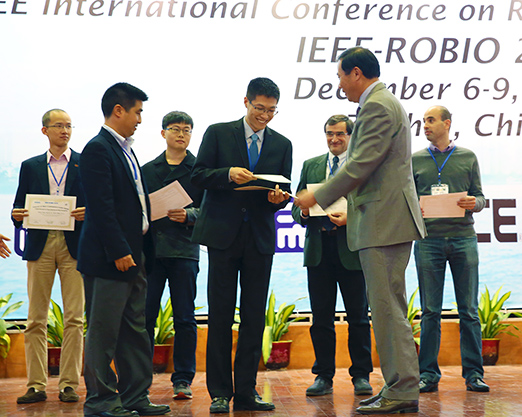 Best Conference Paper Award

"Learning optimal measurement and control of assembly robot for large-scale heavy-weight parts"
Wan, An; Xu, Jing; Chen, Ken


Tsinghua University, China
T.J. Tarn Best Paper in Robotics Award
"MR-compatible Stimulation Device Capable of Providing Passive and Active Finger Movements"
Murata, Koichi; Matsushita, Akira; Saotome, Kosaku; Kawamoto, Hiroaki; Sankai, Yoshiyuki


University of Tsukuba, Japan
"Parallel Moduli Space Sampling: Robust and Fast Surgery Planning for Image Guided Steerable Needles"
Liu, Fangde; Petersen, Joshua; Rodriguez y Baena, Ferdinando


Imperial College, UK
Best Biomimetics Paper Award
"Development of A Small Quadruped Robot with Bi-articular Muscle-tendon Complex"
Kazama, Eiki; Sato, Ryuki; Miyamoto, Ichiro; Ming, Aiguo; Shimojo, Makoto


The University of Electro-Communications, Japan
Best Student Paper Award
"An Improved eLBPH Method for Facial Identity Recognition: Expression-Specific Weighted Local Binary Pattern Histogram"
Xi, Xuanyang; Qin, Zhengke; Ding, Shuguang;Qiao, Hong


Institute of Automation, Chinese Academy of Sciences, China
                                                          
The IEEE ROBIO 2015 conference will take place from December 6 to 9 2015 in Zhuhai, China. The theme of ROBIO 2015 is "Bio-inspired Robots beyond Biomimetics", reflecting the ever growing interests in research, development and applications in the dynamic and exciting areas of robotics and biomimetics. ROBIO 2015 promises to be a great event for researchers and scholars in robotics and biomimetics areas, with attractive technical and social programs. The ROBIO 2015 conference invites high quality original research and development papers in all areas related to robotics, biomimetics and related topics.
Contributed Papers: Original papers are solicited in all related areas of robot­ics and biomimetics. Full papers must be submitted in PDF format prepared strictly following the IEEE PDF Requirements for Creating PDF Documents for the IEEE Xplore. For detailed format information, please visit the conference website. All accepted and presented papers will be indexed by EI and included in IEEE Xplore.
Tutorials & Workshops: Proposals for tutorials and workshops addressing new topics in robotics and biomimetics are invited for submission to the T/W chair.
Tour Packages: Tourist packages to Zhuhai attractions will be available.